The rapid transit system of Copenhagen is being transformed with the opening of a new metro circle line in the fall of 2019. And a light rail and more metro lines will open in the near future. Therefore, residents of Copenhagen and visitors to the city need a map that unifies S-train, metro, local and regional railways. We have created such a map.
The Copenhagen train system
The core of Copenhagen's public transit system was for many decades the S-trains (urban rail), allowing residents of suburban areas and nearby towns to quickly reach the city center by train. Apart from the F-line forming an outer ring, the S-train lines constitute a radial system reaching out from the city center.
In 2002, two driver-less metro lines, M1 and M2, opened crossing through the city and connecting Amager and the airport to the city center. In 2019, a new metro circle line, M3, will open after nearly ten years of construction.
The only official map that to some extend combines the different train networks of Copenhagen, lacks metro line information, and cannot accommodate the M3 circle line. The map also suffers from some apparent design flaws, such as vertical labels and stations that are located on water (Kongens Nytorv and Christianshavn).
DSB's metropolitan area transit map
The S-train system and the metro system use separate maps with different design principles, each of which works well on their own.
Official S-train map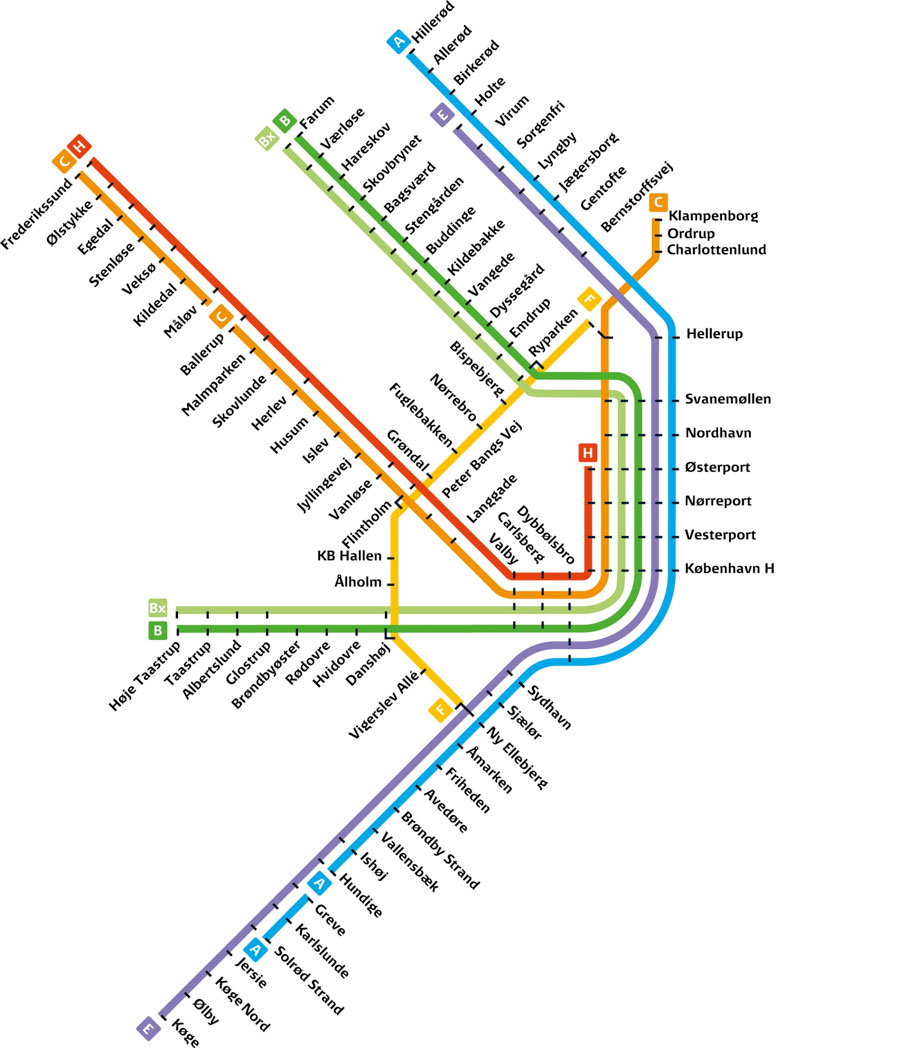 Official metro map
However, the two maps cannot be combined without violating the style of one or the other. To solve that problem, we decided to create a brand new unified map from scratch.
Design philosophy of the new map
We wanted to create a functional and beautiful map that commuters and new riders will enjoy using, and that will pique potential visitors' interest in Copenhagen.
We also wanted the map to show the entire rail and metro network in the Copenhagen metropolitan area, but to keep the main focus on the S-train and metro systems.
Line geometry
The shape of the lines is kept simple with a harmonious flow, so users can quickly find their station and plan their journey. Large corner radii and few directional changes make it easy follow a line's route.
Memorable shape of the circle line
The new M3 metro circle line is depicted as a recognizable diamond shape in the center of the map.
Line colors and styles
The official metro line colors can be difficult to distinguish from the official S-train line colors (M1 is similar to B, M2 is similar to F, and M3 is similar to H). The similarities becomes an issue when combining the two networks on one map. We have solved this problem by depicting S-train and metro lines with two different line styles while keeping the official line colors.
Coast, harbor and lakes
The coast around Copenhagen, together with lakes and canals, serve as important geographical landmarks in a Copenhagener's daily life. A simplified coastline as well as an indication of the Lakes ("Søerne") and the canal around Christianshavn are illustrated to aid geographical orientation. We also include a subtle indicator of the city center to assist visitors who are not familiar with Copenhagen.
One map for all day, every day
During weekends, evenings, and holidays, only a subset of the S-train lines runs. DSB (who operates S-trains and regional trains) uses one map for weekdays and another map for weekends, evenings, and holidays. Our new map instead provides the operating schedule in the legend, and employs a special station symbol for A-line stops that are not called during daytime on weekdays.
Stations
Stops are indicated by a circular station symbol or by a unique interchange symbol for stations where users can transfer between different train systems.
All labels are horizontal which strongly aids readability. All text on the map is set in a modern clear neo-grotesque typeface.
Who made it
How can I use the map?
You can use the map freely for non-commercial purposes. For questions on licensing the map or on collaboration, please write us by @email.
---